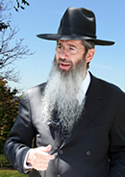 Often recognized as the familiar, soothing voice heard daily on 91.1 FM WFMU and 620 AM WSNR, Rabbi Dovid Goldwasser disseminates Torah to tens of thousands, inspiring hearts and infusing minds. He has galvanized countless audiences from every background with his eloquence and dynamism through his multiple roles of educator, author, community leader, noted lecturer and spiritual...

פרשת מטות
BROKEN PROMISES

"But if on the day of her husband's hearing he shall revoke the vow that is upon her … then Hashem will forgive her." (Bamidbar 30:9)
Rashi explains that this refers to a woman who vowed to be a nezirah but was not aware that her husband had heard her make the vow and annulled it.  She subsequently broke her vow, drinking wine and coming in contact with...