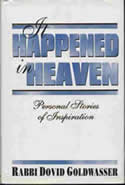 "It Happened In Heaven"
Personal Stories of Inspiration.
Rabbi Dovid Goldwasser has been the manhig ruchani and Rav of Khal Bais Yitzchok for the past decade. His dedication to the klal has its roots in his long-standing work as a Rav, marbitz Torah, and mashpia. A sought-after and renowned speaker, Rabbi Goldwasser has traveled extensively throughout the United States and Europe, galvanizing audiences from every background with his eloquence and dynamism. On radio stations WFMU 91.2 FM and WNJR 1430 AM, he is marbitz Torah to thousands through the daily morning chizuk program and his weekly words of the parashah. Rabbi Goldwassers keen perception and insight, as well as his caring and concern, have enabled him to offer much needed chizuk and inspiration to countless individuals, couples, and families who have sought his counsel. One of the pioneers of the kiruv movement, Rabbi Goldwasser has become a legendary figure. He has a special ko'ach to reach and affect all Jews through his warm and sincere personality as well as through his keen, penetrating Torah insights into the human condition. These stories are only a glimpse into his life's work. His encounters will sometimes astonish, sometimes awaken, and always inspire.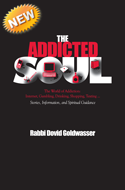 "The Addicted Soul"
The Addicted Soul goes where few have dared to tread and takes the reader behind the closed doors of many teenagers and adults who are challenged by any of a variety of addictions. The debilitating effects of addictions – from the Internet to shopping – threaten to ruin the lives of individuals, families and society in general, and Rabbi Goldwasser's long-overdue book focuses on this neglected segment of our population.
For more than twenty-five years, Rabbi Dovid Goldwasser has been counseling young people, couples and families globally, providing reassurance and inspiration, imparted with perception and sensitivity. Anyone who has ever heard Rabbi Goldwasser speak, met him, or read one of his books needs no introduction to him, and will easily recognize his inimitable and captivating style of addressing the important issues of the day.
In response to popular demand, and an answer to many prayers, The Addicted Soul provides a comprehensive analysis of the physical, spiritual and emotional conditions of the addicted soul. This is much more than a cut-and-dried information manual. In addition to the heartbreaking and real-life vignettes portrayed in this work, the rabbi presents the reader with a treasure trove of lore and Jewish philosophical tractates, Torah thoughts and insights that are guaranteed to be inspiring, poignant, and encouraging. Rabbi Goldwasser's personal exposition of the Twelve-Step Program, based on Torah values and philosophy, lays an effectual foundation for recovery from addiction and spiritual growth. The book offers hope and support to the downtrodden, and advice and guidance for the uninitiated who want to remain out of harm's way. Though based on religious doctrine, Rabbi Goldwasser's lessons are applicable to everyone – those who seek to safeguard themselves and their families, and those who desire to overcome their addiction.