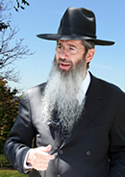 Often recognized as the familiar, soothing voice heard daily on 91.1 FM WFMU and 620 AM WSNR, Rabbi Dovid Goldwasser disseminates Torah to tens of thousands, inspiring hearts and infusing minds. He has galvanized countless audiences from every background with his eloquence and dynamism through his multiple roles of educator, author, community leader, noted lecturer and spiritual...

פרשת דברם

BRAINPOWER

"An ox knows his owner, and a donkey his master's trough; but Israel does not know, My people do not think about it seriously." (Yeshayah 1:3)  
Rashi notes that in the course of their daily work the animals develop a relationship with their masters.  The donkey only associates his master with his food, but the Bnei Yisroel have not aspired to even that level of appreciation.
The Malbim adds...