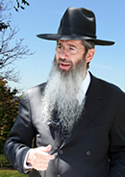 Often recognized as the familiar, soothing voice heard daily on 91.1 FM WFMU and 620 AM WSNR, Rabbi Dovid Goldwasser disseminates Torah to tens of thousands, inspiring hearts and infusing minds. He has galvanized countless audiences from every background with his eloquence and dynamism through his multiple roles of educator, author, community leader, noted lecturer and spiritual...

פרשת ויקהל

WORDS OF HOPE

"Moshe commanded that they proclaim throughout the camp, saying, "Man and woman shall not do more work toward the gift for the Sanctuary" (Shemos 36:6)
Why did Moshe Rabbeinu direct that nothing more should be brought for the Mishkan?  If no more funds were required for the Sanctuary itself, the money could have been set aside for maintenance or to defray the costs of the free will offerings...